DESIGN
Design Services
Office Concepts design team takes an active role in insuring that projects are implemented according to plan and adjusted to accommodate field conditions. They actively develop solutions that integrate fundamentals of barrier free design and exceed client expectations. Office Concepts designers are experienced in working directly with architects, designers, consultants, general contractors, subcontractors, electrical and building engineers, facility managers and IT personnel.
Furniture Programming and Meetings
Work with client/architect to define furniture objectives and project goals.
Interview department heads/managers to gather information regarding headcounts, workstation configuration, private office typical, lobbies, conference areas and healthcare environments.
Inventory any existing furniture to be re-used.
 Preliminary Design
Develop furniture typical
Selection of furniture and finishes
Present design and furniture layouts based on information gathered from programming sessions.
Present preliminary furniture budget and finish selections.
Design Development
Develop final furniture layout for client approval.
Inventory re-use analysis.
Present furniture plans and recommendations to client/architect for approval.
Present furniture and finish selections to client/architect for approval.
Coordinate furniture design development with outside contractors and architect (electricians, phone and cabling).
---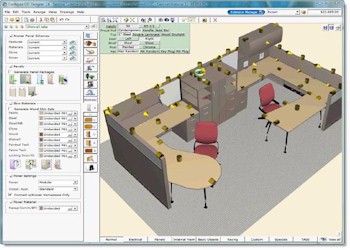 SmartTools